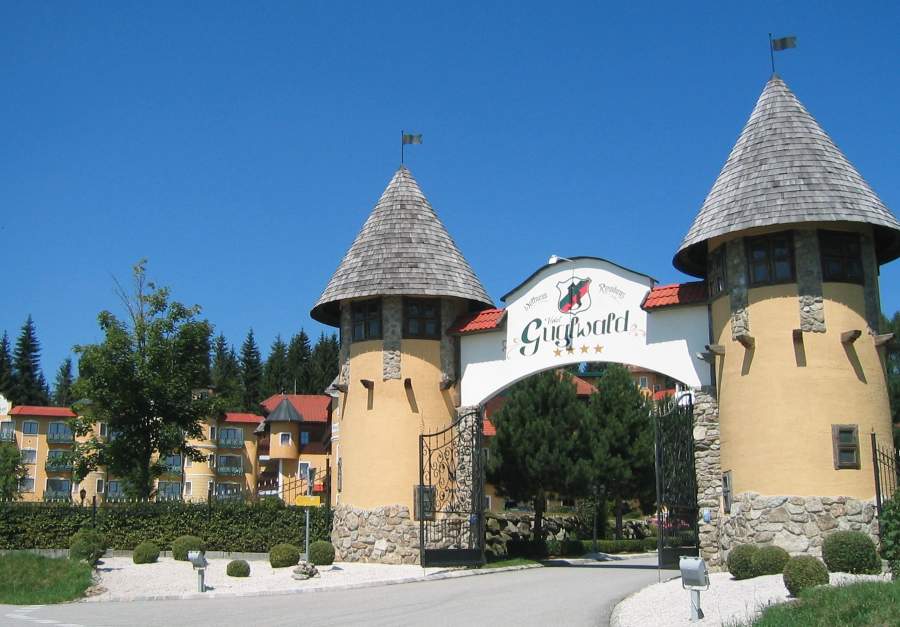 If you're still spelled after my recent Googlewood story, check out the award winning four-star resort, the one and only Guglwald Hof. www.guglwald.at.
Sprawling right along the Austrian/Czech border in a majestic manner, this romantic getaway has become quite the destination, drawing wedding parties, honeymooners, wellness geeks, and city folks from near and far.
Upon arrival, cute ladies in Austrian Dirndl, the kind of dress Julie Andrews wore riding through Salzburg with the Von Trapp kids, greet guests with a welcome drink. Once the old-fashioned room key and bathrobes are handed over, it's time to swap clothes for swimsuits and disappear into the pools, saunas, steam rooms, hot tubs, and spa salons, letting your mind, body, and soul dangle.
The all-inclusive package (except for massages) is a deal hard to come by outside of Austria. The breakfast buffet offering a staggering assortment of 100 different products, caters to every culinary desire and taste bud. Herbal teas, gourmet coffees, homemade jams and marmalades, cereals, cakes, dairy, cheeses, eggs, cold meats, bacon, sausages, every imaginable kinds of bread, croissants, fresh fruits, juices, and much much more. It's mind boggling, this scrumptious spread.
Halfway through the day, between 2:00 and 4:00 pm, it's Kaffeeklatsch, a social time for coffee, tea, and of course the famous apple strudel, cakes, and yummy cream. For those who prefer a Jause, the Austrian savory snack, it's soups, fresh salads, cheese, cold cut meats, and assortments of wholesome breads. The culinary highlight of the day by far is the 6-course gourmet dinner. White linens, candlelight, and fresh cut flowers set the mood for relishing Austrian delicacies as well as favorite dishes from around the region.
Ready to check it out? Getting there. Choice One: Taking the scenic road from Linz, www.linz.at, Upper Austria's capital hugging the banks of the blue Danube. www.linz-airport.com. The spectacular fifty kilometer long drive takes you north through the steep Haselgraben, https://de.wikipedia.org/wiki/Haselgraben_(Tal) across a dreamy landscape dotted with grazing milk cows, whitewashed farmhouses, and storybook towns boasting shops, cafes, and a church right on the town square.
Choice Two: Via the Czech Republic's capital Prague. Taking the road through Bohemia's deep south, the small, medieval river town of Český Krumlov, www.krumlov.com is a must see. An easy fifty-minute ride from Guglwald, this Unesco World Heritage Site, famous for its stunning 13th century castle and picturesque town square, has become the darling of picture snapping tourists ever since the Berlin Wall came crumbling down.
That shattering moment also transformed life for the Hehenberger family, owners of the Guglwald Inn since 1958. The open border and heavy stream of traffic into Bohemia brought a tremendous boost, leading to a massive expansion of the property and the birth of the Googlewood castle, the Guglwald Hof.
Hope to see you there!