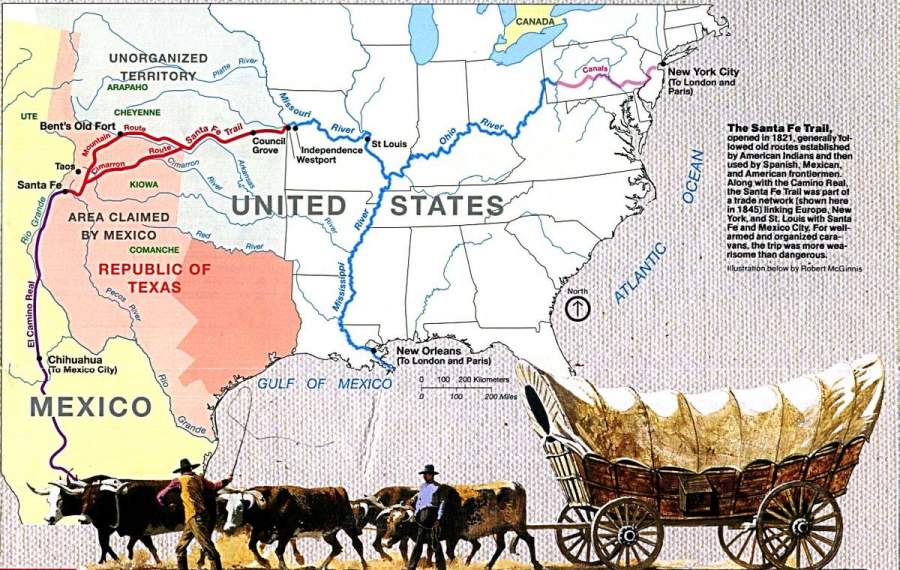 In 1821, with Mexico's independence from Spain, a vital trading route was established between Independence, Missouri and Santa Fe, New Mexico.
Coming to be known as the Santa Fe Trail, this only thoroughfare out to the Wild West was America's first commercial highway west of the Mississippi River, stretching 900 miles across Kansas, the Great Plains, and Colorado into the Northern Mexican state, Nuevo Mexico, terminating in the Mexican city of Santa Fe.
Prior to 1821, the Spaniards had already established a flourishing merchant trade on the north south El Camino Real between Santa Fe and Mexico City. The new Santa Fe Trail opened possibilities for international trade, becoming a vital link in a transportation network connecting Old Europe to the New Americas via New York and St. Louis, out west to Santa Fe and further south to Mexico City.
William Becknell, a war veteran and trader from Missouri is considered the Father of The Santa Fe Trail. https://www.legendsofamerica.com/santa-fe-trail/
In September 1821, following old Native Americans routes, he and a small group of men forged west loaded with merchandises after he learned Mexico was accessible for business. Mid November, upon arrival in Santa Fe, Becknell and his men received a warm welcome from the city's Mexican citizens and government officials. Their encouragement to bring more goods established a commercial roadway for wealth-seeking traders and pioneers.
From then on, a variety of goods, textiles, clothing, hardware, travelled west to Santa Fe and silver and fur went east to Missouri.
In 1848, the signing of the Guadalupe Hidalgo Treaty ended the Mexican-American war turning some of New Mexico into United States territory. Under U.S. rule, new traffic along with the already lucrative commercial trade increased especially after stagecoach mail delivery service began in 1849. But in 1880 the Santa Fe railroad was completed and brought with it the trail's demise. https://www.history.com/topics/sante-fe-trail
 So, next time you get the adventure extraordinaire itch, strap on your boots, and hop behind the wheel in Independence, Missouri. Blaze the marked auto tour route on Interstate 70 that closely follows the original Santa Fe Trail. http://www.santafetrailscenicandhistoricbyway.org/autotour.html
As you enjoy an endless landscape of prairie, rugged mountain vistas, and frontier history stretching beyond your windshield, try to envision those covered wagon trains laboring through these once treacherous territories.
Where would we be without those daring trailblazers?
See you on the trail…