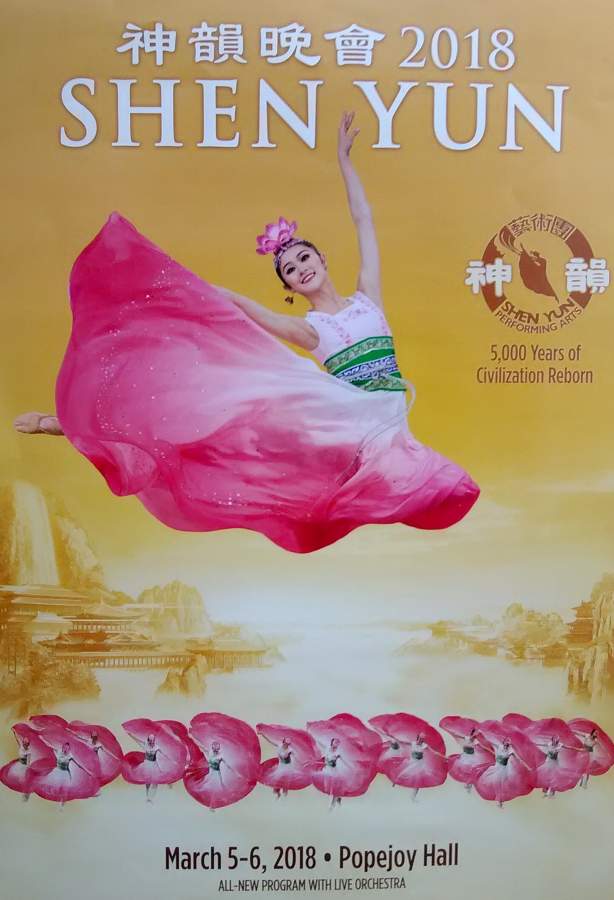 Springtime. Season of awakening, season of bright colored blossoms, season of new life. That's what unfolded on stage at the Popejoy Hall in Albuquerque one evening in early March. 5,000 Years of Chinese civilization presented by Shen Yun Performing Arts. www.shenyun.com
From the moment the curtains were drawn, an all-Chinese male and female dance cast spelled the audience, showcasing China's ancient civilization through the medium of Classical Chinese Dance of epic proportions.
Scanning through the program before the show, I was left surprised to learn the following:
Shen Yun prides itself of reviving and staging authentic Chinese culture; an ancient culture that has almost vanished under the Communist Regime.
But in 2006 Shen Yun emerged with the purpose of restoring Imperial China's old, spiritual heritage. Although the New York based group has been banned in China, the enterprise has grown into a global phenomenon thanks to the visionary leadership of Artistic and Creative Director, chief costume designer simply called, D.F.
Once the hall fell dark, snuggled in my seat, I was carried away into realms of enchanting beauty. Against animated 3D backdrops, a cast of brilliant dancers launched effortlessly into jaw dropping moves, twists, pirouettes, and aerial flips. Flowing like angelic beings, these sparkly performers painted a rich history, the gorgeous, vivid melodies of ancient Chinese instruments and Western orchestra evoking times and places of China's bygone imperial days.
The befitting opening number, From Heaven to Save All, showed celestial beings in iridescent colors awaiting the coming of the Creator. He emerged, and inviting these beings on a journey through Earth's mortal realm, a grand play began unfolding, creating a magnificent culture and deep purpose for mankind.
Throughout the program, the strength of military might and archery balanced the grace and elegance of handheld fans, soaring handkerchiefs, and human voices telling stories about devotion, spiritual awakening, and cultural beauty.
The intermission afforded me the opportunity to learn more about traditional Chinese culture. Based on the concept of harmony between Heaven, Earth, and mankind, the Chinese Communist Government felt threatened by this spiritual philosophy. For decades they conspired to destroy it; but to no avail.
Thanks to Shen Yun's grand mission, blending art and superb choreography with spirituality, the soul of ancient China has been revived for humanity to enjoy.
The Divine Renaissance Begins, the show's booming finale, left the audience with a uplifting feeling that even in the worst of days, heaven will open up, ushering in a new era of hope and peace.
After all, Shen Yun means: "The beauty of heavenly beings dancing."
Indeed, angles are watching…