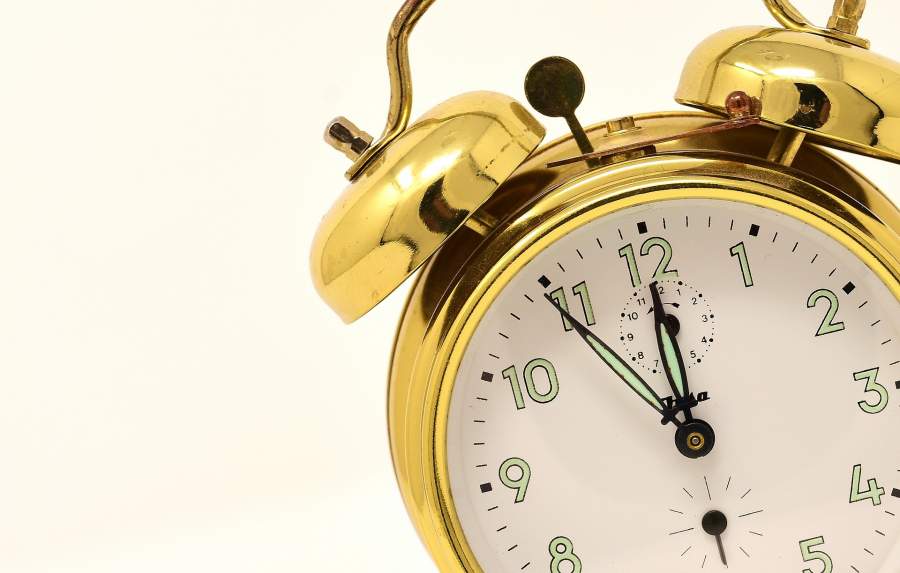 'Where has the year gone?' That's the million-dollar question many of us toss around when the old year rolls out and a new one comes in. And the many times I've crossed that threshold, the answer has been elusive like a dream.
So, what is 'time'? I've pondered over and over, leaving my thoughts drifting in space like bubbles in the air. What I've come to know is this: Time is elusive. A fleeting illusion, that disappears like vapor into thin air. Nobody has ever succeeded in holding it, stopping it, elongating it. Haven't we all felt at one time or another the truth of the saying 'Time flies when you're having fun'? That's a cliché, you might argue, but isn't it true? Haven't we all experienced that infinite notion of floating through the most perfect circumstances, wanting to linger in that feeling forever, wanting to stop the hands on the clock from inching forward?
But to no avail. Time marches on, no matter what. And it does so for everybody. Indeed, it whizzes past us like a bullet train, just when we want to enjoy that ride forever, yet, in a split second it could all change and we may find ourselves crawling along like a sleepy snail under a rainy autumn sky.
'Where has the year gone?' Reminiscing, as I skim through my 2019 calendar, I can only wonder at the breakneck speed the hours have whizzed into weeks and months; how swiftly countless moments merged into a colorful canvas of timeless memories. Memories that will live on in our hearts yet are intangible like time.
Time is indeed a fleeting illusion. Rather, our personal relationship to linear time, yet strangely, at periods it feels as if the clock seems to be standing still while at other times it seems to be spinning away like a wheel of fortune.
I experienced both notions not long ago, reconnecting with people I hadn't seen in ages.
Landing in Austria on a rainy September day several years after my last visit, my emotions ran
high stepping off the airplane. But to my surprise, outside the terminal, inhaling the fresh, crisp fall air draping the verdant hills, the initial excitement eased and I felt I had been caught in a time warp since I waved my homeland good by many summers ago. On the other hand, the truth of the age-old saying, 'Time flies when you're having fun,' brought up echoes of time's illusionary nature.
On my way into the city, a long time friend called to welcome me. She asked, "How does it feel to be back again?" I thought about her words for a moment, gaging my inner state of being. Until that September day I've had always mixed emotions about returning to Linz. For the most part they hadn't been the most pleasant kind. Provincial town vibe for one thing, and a climate that calls for umbrellas and raincoats, not just in the winter. We've got sunshine all right but lots of rain too; our green hills speak for that. And rain it was, welcoming me at the Blue Danube Airport. But instead of fuming about the terrible downpour, which I always did, a calm feeling descended on me instead. To my surprise, I felt as happy as leaving Dallas under a blue sunny sky. Genuinely happy; no more and no less. Equally glad and content. I didn't wish to be anywhere else, like I always did in the past when things were different, as I had expected. Like this pounding rain for instance, now drumming on our car as I answered my phone.
Chatting with my curious friend, something dawned on me.
"You know, Doris," I finally told her, "Everything feels the same, it's no different than Dallas."
"No way," she sounded a surprised note, "You've got to feel different, you've come back home."
"Strange as it may seem, I'm happy in both places." I said, trying to convince her that my happiness was genuine, independent of place and time.
But she couldn't get into my frame of mind. What do you do when you say 'A' and she
understands 'B'? When you're caught in a different time zone?
A few weeks later, reuniting with a friend in Sri Lanka, I had a similar experience. When we hugged at the Colombo airport, the 29 years between us dissolved in the humid air. Where have the years gone? We both felt like we had just seen each other yesterday.
Where has the year gone? I don't ask anymore because to me, the year hasn't gone anywhere. I've turned the calendar page but it's still here, right inside of me. A year filled with lifelong memories of far away places and people who left lasting imprints on my heart.
Any time I desire to do so, I can relive these magic moments. It's like flipping a switch. It's that simple.
'Nothing lasts forever,' is another famous saying. In a way it may sound true but is it? Isn't everything we experience forever? All our heartaches, our challenges, our trials, our joys? They stay with us, stored in the memory bank of our unconsciousness, our internal hard drive. Our cells, our hearts, our brains can call up our experiences any time like a mouse click on a laptop.
That brings me to the over quoted statement, "Live in the present moment. Live in the now." Simply said but hard to do. Yet, when we are truly able to live in the now, embrace it with all its shortcomings, magic happens. Present, past, and future morph into one, becoming one big slice of this monstrous unstoppable time machine, churning its way through the eternal universe.
So, in my view, 2019 hasn't gone anywhere. I still hold it in the palm of my hand; all memories stored on my internal hard drive forever. Any time I desire, I can stop my time reel and rewind, recapturing the past.
So, when somebody says, "Where has the time gone?" I can only smile, thinking to myself, Nowhere.
.