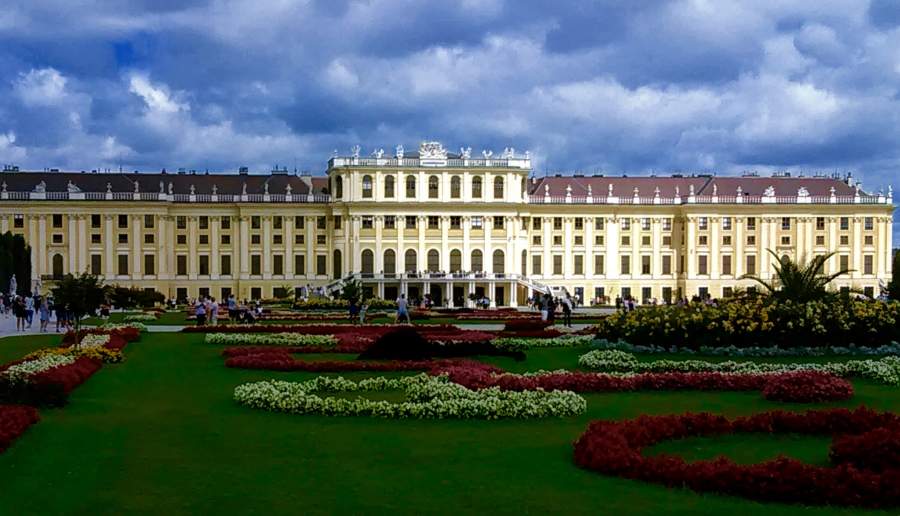 Vienna owes much of her imperial glory and splendor to the grand Habsburg Dynasty, which ruled a vast stretch of central Europe for six centuries from its capital city Vienna.
Germans by origin, the Habsburg family gained power when Pope Gregory X needed support for a new crusade. To secure a counterweight to the King of Sicily, he persuaded the German princes to elect Count Rudolph of Habsburg as the new emperor in 1273. https://en.wikipedia.org/wiki/House_of_Habsburg.
Growing up in Austria, I've heard much about the vast Habsburg monarchy, ruling much of Europe for over six centuries until 1918. Also known as the Austro-Hungarian Empire, it included present-day Austria and Hungary, extended from the Kingdom of Bohemia across present day Czech Republic and Slovakia, down south to Slovenia and Croatia. Parts of present-day Poland, Romania, Serbia, Ukraine, and Italy were acquired through marriages.
Fast forward to 2017. It's another gorgeous summer day and I'm back in my homeland under the Viennese sky. The Habsburg reign has long ended but its rich heritage is etched into the monumental palaces, princely mansions, and baroque buildings dominating the famous Ring Strasse.
I'm staying at the Austria Trend Hotel, https://www.austria-trend.at/en/hotels/ananas.
Just a couple of miles from the Opera House, the Imperial Hofburg Palace, and a few steps from the subway station, https://www.wienerlinien.at/, this chic four-star residence is the ideal place to stay. With speedy trains running every three minutes in both directions, getting around in Vienna is quick and fun.
Hopping off the subway at Schönbrunn palace is like stepping back into a slice of Austria's grand past. https://www.schoenbrunn.at/en/ A time that gave rise to the greats of Mozart, Beethoven, Schubert, and Strauss. A time when inventions and discoveries changed the course of a nation while pompous ladies in bead dripping gowns waltzed through mirrored, gold paneled halls.
Daydreaming, I'm left speechless like those picture snapping tourists swarming about, oohing and ahing, soaking in the brilliance of this former summer residence. The elaborate landscaped palace grounds of this UNESCO World Heritage Site is a scene to behold and so is the airy Gloriette pavilion towering over pooling marble fountains. Ambling past eye-catching floral designs, I try to envision the times when Empress Maria Theresia ruled over the land. https://en.wikipedia.org/wiki/Maria_Theresa
The one and only female ruler in the House of Habsburg, she ascended to the throne in 1740 at the young age of 23 after the death of her father, Emperor Charles, VI. During her 40-year reign, this fierce ruler, strategist, mother, reformer paved the way for compulsory education, promoted commerce and agriculture, restructured the military, and supported human rights. Her love marriage to Emperor Francis I produced a staggering 16 offspring. To this day, Empress Maria Theresia remains one of the most influential and revered women in Austrian history. This year's Jubilee Exhibition commemorates her 300-year birth anniversary on May 13, 1717.
Another royal is equally revered throughout Austria. Empress Elisabeth, lovingly referred to as Empress Sissi. Not so much for her accomplishments but rather for her flawless beauty that captivated everyone she encountered including Emperor Franz Josef I. https://en.wikipedia.org/wiki/Franz_Joseph_I_of_Austria. At the tender age of 16, this free-spirited Bavarian Princess stole His Majesty's heart, thrusting her into a very strict court life at the Hofburg Imperial Palace right in the heart of Vienna. https://en.wikipedia.org/wiki/Empress_Elisabeth_of_Austria To escape her rigid, daily life, Sissi became obsessed with her beauty and constant maintenance regimen, spending hours in her chamber for grooming and dressing.
Today, touring Sissi's private quarters in this six-century-old Habsburg residence one can learn all about her not-so-happy life that ended on quite a tragic note.
Over the centuries, the Hofburg has been a treasure trove of Austrian culture and heritage, housing the Treasuries of the Imperial Palace. https://www.kaiserliche-schatzkammer.at/en/ The crown jewels of the monarchy, the gem-studded tiaras and crowns, elaborate necklaces and regal gowns, displayed in polished glass cases offer a rare glimpse into the wealth of a once select few.
It is also here, under its shiny, gold trimmed cupola, where the Austrian President conducts his business affairs, while in another wing the unmatched equestrian artistry of the famous Lipizzaner stallions of the Spanish Riding School is showcased in velvet draped marble halls.
As another visit to Vienna nears its end, I enjoy another fabulous view of the cosmopolitan cityscape, beholding its grandeur and timeless beauty, wishing to be back soon. I sure hope you'll join me on this experience for all your senses. Vienna waits for you…
The Sound of Vienna by Jose Feliciano,  https://www.youtube.com/watch?v=9ubSHAb0fTk
 The Rise and Fall of Austria and the Habsburg Empire Video,  https://www.youtube.com/watch?v=KyLSUZ1qlVM