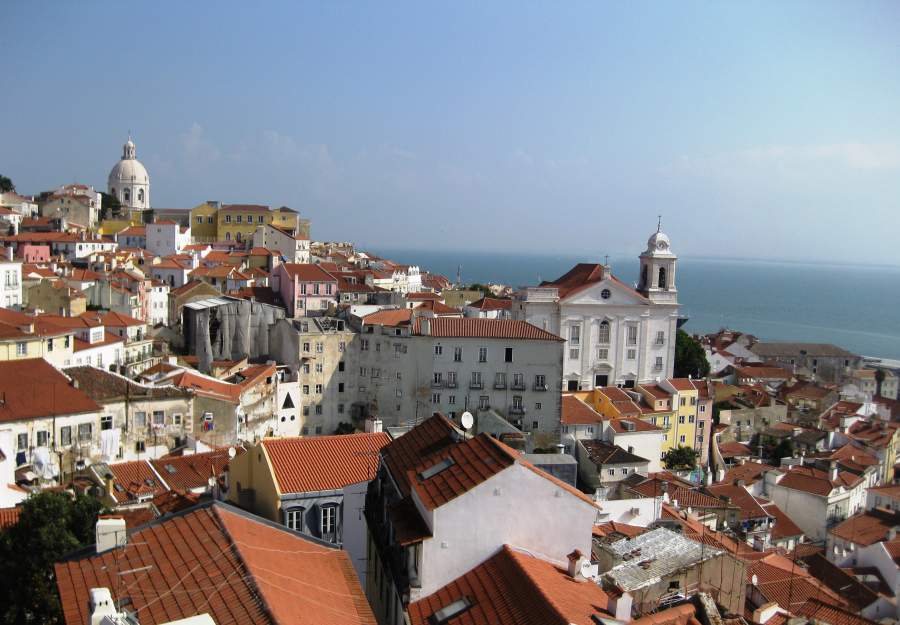 Have you ever been to Lisbon? The capital city of Portugal guarding the southwestern tip of the Iberian Peninsula? A global city known to be the grand dame of Europe and one of the oldest cities in the world? If you have not, let me show you around. Landing on the shores of the Tago River, the city view unfurling from the deck of our cruise ship was like a Van Gough painting. Dreamy and luminous, hued in a golden glow, basilica domes, church steeples, and a sea of red roofed, white washed houses stacked on top of each other spread across seven hills, like Rome.
With a city map in hand my husband and I hurried off the ship and into one of the red double decker buses outside the port gate. Crossing the stately Square of Commerce, at least double the size of Vienna's Heldenplatz I reckoned, we hopped off in the Alfama district, one of Lisbon's oldest and charming neighborhoods. Alfama became home to Arab Muslims after Catholic King Alfonso the First ended the Moors' reign and established Lisbon as his capital city, heralding a period of growing power and influence through the 15th and 16th century.
As we trotted over cobblestone streets, Lisbon's famous yellow vintage tram thundering past, I reflected on the city's rich history while snapping pictures of Moorish style homes, their bright colored facades and iron balconies alluring. Reaching St. George's castle hill after a steep ascent, the breathtaking panorama was worth all the effort. During a coffee break in a street café I read in my brochure that in 205 BC, this Phoenician colony was incorporated into the Roman Empire. The Visigoths ruled next before the Moors conquered the land, setting the foundation of Lischbuna, the present day Lisbon.
Down the hill, we arrived in the city's modern district, its tree-lined boulevards, fashion boutiques and French cafés evoking a flair of Paris. Touring the presidential palace, I was quite shocked to learn about a massive earthquake almost destroying the entire city in 1755. Where once more than 40,000 people perished, fancy high rises and glass towers rose amidst beautiful landscaped gardens, erasing traces of that calamity.
Back on the cruise ship, sailing past the Belem tower out to sea, Vasco Da Gama came to mind. It was right from here where Portugal's most famous son set sail to mark his initial voyage to India.