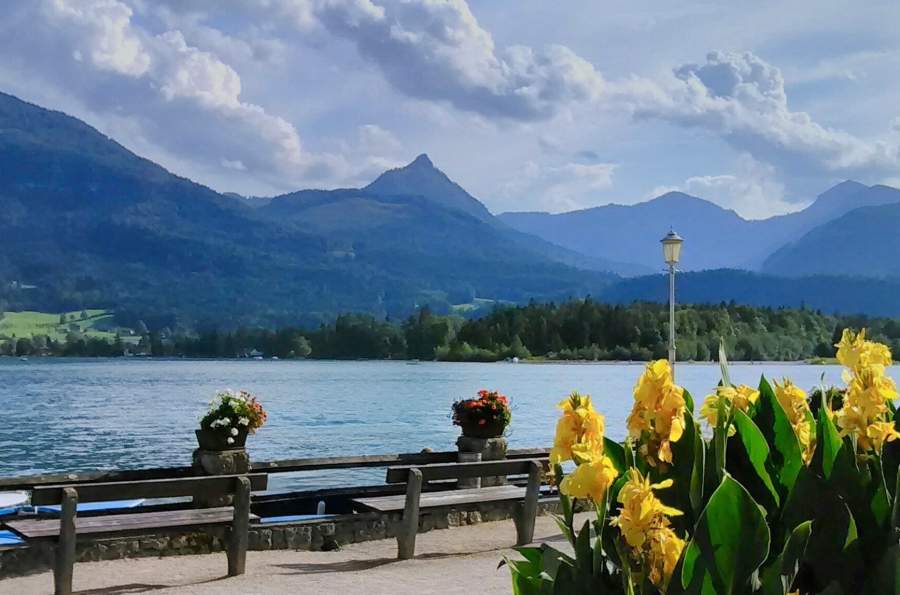 Salzkammergut. Austria's famous region of spectacular Alpine lakes, scenic valleys, and rugged mountain peaks stretches from Salzburg to the east into parts of Upper Austria and Styria. https://www.austria.info › … › Lakes & Nature › Salzkammergut – Lake District https://www.salzkammergut.at/en
Since the saying goes, "A picture is worth a thousand words," I will leave the storytelling for the most part to some of the most picturesque snapshots from my recent trip. However, I'd like to tell you a little bit about some of the most scenic and famous lake communities of the Salzkammergut.
Hallstatt, extensively featured on my last blog tops the popularity list. But Sankt Wolfgang (St. Wolfgang), and Mondsee are right behind. The lake town St. Wolfgang, rising along Wolfgangsee (Lake Wolfgang), east of Salzburg, houses the iconic hotel, "Weisses Roessl", (White Horse Inn.) https://www.weissesroessl.at/en.html
After becoming the movie set of the famous 19th century German operetta, "Im Weissen Roessl," https://en.wikipedia.org/wiki/The_White_Horse_Inn by Austrian composer Robert Stolz, https://en.wikipedia.org/wiki/Robert_Stolz, the little town transformed into a booming tourist magnet.
The town's landmark, the well-preserved Pilgrimage Church, guarding the lake is home to a gigantic, intricately carved winged altarpiece.
Exploring the lake is easy with the many ferries, including an 1873 paddle steamer, cruising around the emerald lakeshore.
The nearby Schafbergbahn, a steam-powered cog railway, is another must see on your visit to the area. www.schafbergbahn.at/en_uk.html. The steep climb up to the Schafberg summit, offering sweeping views of alpine lakes and snowcapped mountain ranges, made its movie debut in "The Sound of Music" when Maria and the Von Trapp kids sang their way around Salzburg and beyond.
Mondsee, a colorful town skirting the northern tip of crescent-shaped Mondsee, (moon lake), gained much fame after Basilica St. Michael was chosen for the movie nuptials of Maria and Captain Von Trapp. http://forgetsomeday.com/mondsee/ Just 15 miles from Salzburg, this community of quaint cafes and restaurants draws international crowds and Austrian locals alike.
Besides its rich culture, ancient history, and natural beauty, the Salzkammergut region brims with opportunities for water enthusiasts as well as for those folks who just like to sit on the shore, hurling pebbles into the glassy water as the ships go by.