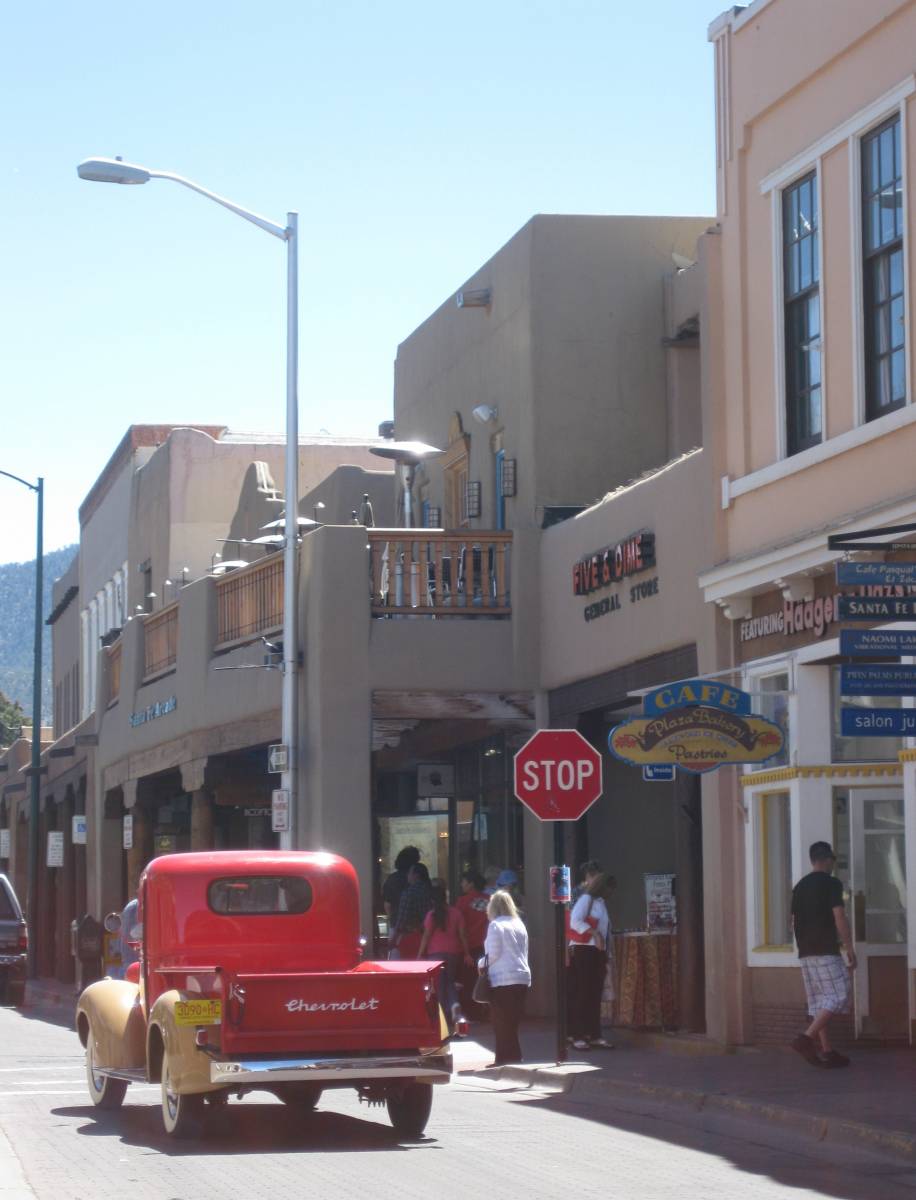 Santa Fe, New Mexico. City Different, so the slogan goes. And indeed, when strolling around the historic Plaza past the chic clothing and extravagant jewelry stores, one notices immediately the staggering difference to the world beyond this oldest capital city of the United States. Maybe it's the dry desert air coming over the Sangre de Cristo Mountains, the gleaming sunlight deepening the horizon's blue, or the serenity of an ancient landscape whose mesas and rock formations speak of an unequaled beauty and timeless mystery.
So, whatever is calling you to this sun drenched city towering at 7,000 feet, Santa Fe's magic and color will touch you in one way or another. A shining beacon of Native America's legendary history and culture, Santa Fe has become a Mecca not only for history buffs but for artists, music and art lovers, movie stars and spiritual seekers as well. Quite a fascinating mix in a town with a population of approx.68,000 that traces back her early settlements of Pueblo Indians to the 9th century.
Today, Santa Fe is one of the most popular tourist destinations in the United States, boasting world class accommodations, world renowned cuisine and a year round event calendar that offers you everything from browsing the Indian, Spanish and International Folk Art Markets, to wine and Chile tastings, while at the same time listening to Bluegrass, Jazz, chamber music, vocal ensembles or high class opera.
Two of the most famous events are no doubt the Burning of Zozobra in September and the Farolito Walk up Canyon Road on December 24.
Feeling already out of breath? You will even more when you inhale this dry mountain air at 7,000 feet. Let me know when you'll arrive. I have a secret remedy for altitude sickness. Before you go, check out the city's websites www.santafenm.org and www.santafe.org.
See you in Santa Fe!